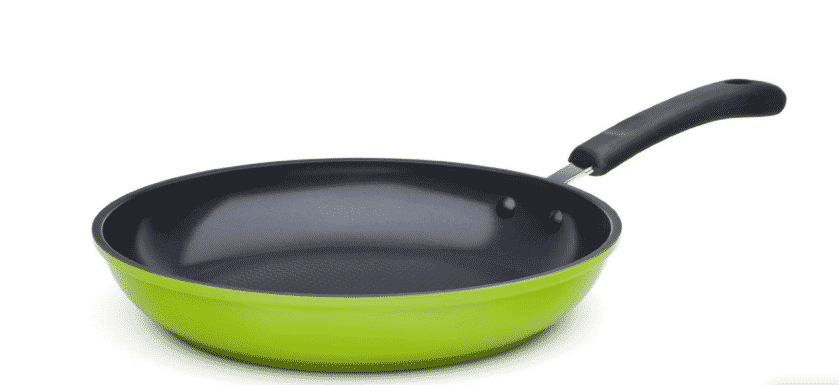 When it comes to cooking, I want to cook with something that is going to distribute the heat evenly to cook my food the best that I can. Unfortunately, with a lot of pans out there, it can be hard to find a good quality one to offer that. I have purchased many pans only to be left with cooking issues and frustration.
I have had the opportunity to take a look at a few things from Ozeri as many of my readers know. I have really built high expectations for this company based on past items that I have seen from them, so when I was offered to take a look at the 12″ Green Earth Frying Pan by Ozeri, I was pretty excited to put this through the mill of quality testing.
Here is what the listing of this item states:
Unlike other ceramic pans, the Ozeri Green Earth Pan utilizes GREBLON – an ultra-safe ceramic coating from Germany which is 100% PTFE and PFOA free.

Innovative textured pan surface delivers enhanced heat distribution and superior non-stick performance without ever releasing harmful fumes or toxins.

Features a scratch-resistant 100 percent ceramic coating that is super easy to clean.

Made out of durable heavy-gauge die-cast aluminum with no heavy metals or harmful chemicals.
Boasts a comfortable heat-resistant silicon coated handle, and a magnetized induction stove safe base for rapid heat transfer.
When this item arrived, it was packaged nicely to insure it would not arrive with any scratches. What I really thought was different is they offered a thick piece of felt to put inside the pan when it is not in use and put away to prevent scratching. The handle of this frying pan has a silicone material over it, which really helps keep a good hold on it when in use. The handle is just the right length which is also something I admired. One thing I often experience is the handle will come loose after a period of time, which is not the case with this. It is nicely reinforced into the pan. The pan itself has a little bit of weight to it, which in my experience, is a good thing. Most heavier pans are good quality. Looking at the bottom of this frying pan, it has a waflle texture on the bottom. My initial reaction to this was pffttt. I didn't think too highly of it and worried it would impact the cooking of various items.
Needless to say, I was wrong. I have cooked everything in this frying pan from eggs to venison and much more. No matter how different the items were that I cooked in this, the final result was the same at the end. My food was cooked evenly and to perfection. Heat seemed to distribute evenly with this pan without any issues. What made this pan even better in my opinion, is it cleaned up very easily. All it took was some mild soap and water and a soft cloth. I have been using this pan for a little over a month now, and after using it, I am a huge fan of this item.
Ozeri offers a variety of differently sized pans as well as a Wok in this line, please feel free to take a look at them and read further reviews on the listing about this product. This is a homerun for me.
Please feel free to visit Ozeri.com to learn about some of the many other products that are offered from this company.
Follow Ozeri on social media for new product information and sales.
This product was provided to me at no cost for the purpose of inspection and an unbiased review. Product images are provided from the listing.