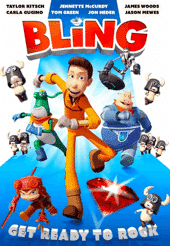 Rock out to a superhero adventure for the whole family with the exclusive debut of BLING on Google Play. Featuring the voice talents of Taylor Kitsch, Carla Gugino and James Woods, BLING follows the tale of lowly theme park mechanic Sam whose plan to marry the girl of his dreams is thwarted by a super villain. It is up to him and his team of superhero robots to save the city. Can this accident-prone amusement park mechanic get back his ring, stop the villain, and win the girl before it's too late? This family-friendly, feature-length animated adventure that is available now.
This family-friendly, feature-length animated adventure
will be available exclusively for free for a limited time* on 
Google Play
 starting March 3
rd
before it hits theaters.
Feel free to take a look at the official trailer:
*Available for free until

April 10, 2016

  on Google Play to residents in U.S., Canada U.K., Ireland, Canada, Australia, New Zealand, Albania, Antigua and Barbuda, Belize, Botswana, Cambodia, Fiji, Iceland, Jamaica, Macedonia, Malta, Namibia, Nepal, Papua New Guinea, Philippines, Rwanda, Singapore, South Africa, Sri Lanka, Trinidad and Tobago, Uganda, Zambia and Zimbabwe.
BLING is also part of Google Play's family-friendly discovery experience that is designed to help parents find apps, games, movies & TV shows and books that are appropriate for their kids.  Simply tap the "Family" button on the Apps, Games and Movies & TV homepages or the "Children's Books" button on the Books homepage to find recommendations by age and interests.
Google Play is an online store with millions of digital songs, movies, TV shows, apps, games, books and more.  With access to 35 million songs, thousands of new release movies and next day TV shows, millions of apps and games, and thousands of news sources, Google Play is your one stop shop for digital entertainment on any device.