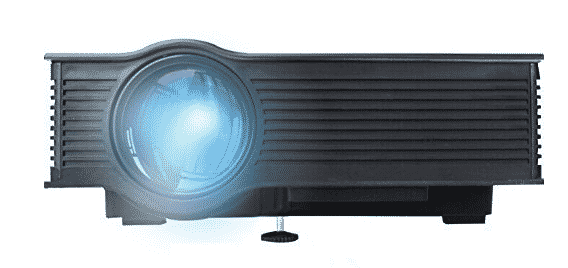 Watching movies is something that many people enjoy, however the movie theater can get to be expensive at times. For me, as a mother of five children, I would take the kids at the discount times, but as they grew older, getting them to watch the same movie was just something that got to be a little tough. So, I decided to look for a solution that would be a win for my family as well as be affordable and durable.
Introducing the Erisan Home Prjector! This home projector offers a home theater look for your movies with great clarity. Here is what the specs are on this product!
Focus: Manual
Lens:F=125mm
Projection distance:3.53 to 12.47 ft(Recommend 11.5 ft)
Input: AC 100-240V 50/60Hz
Output: DC 12v, USB Charging Port
Speaker: 2.0W *2
Video encoding format: MPEG1/MPEG2/MPEG4/DivX/Xvid
Video format: AVI/MOV/VOB/DAT/MPEG/MPG/RM/RMVB
Audio fromat: MP3/WMA/WAV
Image format: JPEG/BMP/GIF/PNG
OS Language: English, French, Russian, Deutsche, Spanish, Czech, etc.
Anticipated Bulb Life : At least 30,000 hours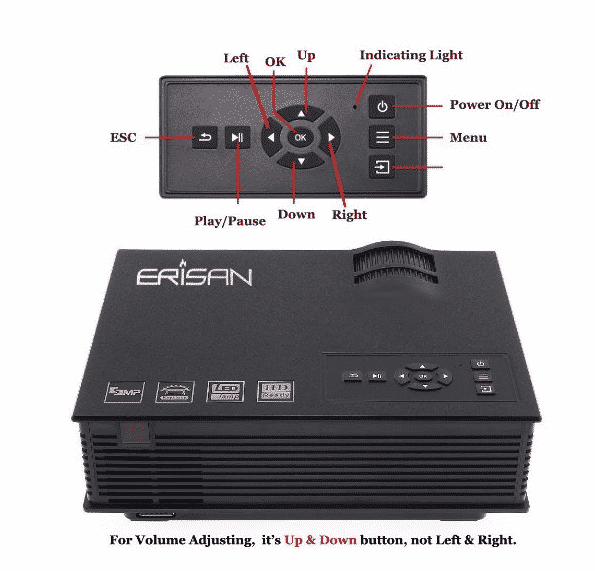 Setting this up was easy and it came with just about everything I needed with the exception of the two AAA batteries as well as a white screen. If you are unable to find a white screen, a white sheet works just as well in my opinion. This is lightweight and compact, so if you were to take this for traveling, there would be no issues with this (measures 8″x2″x5.5″ approx.). This projector does come with a 22-key remote control which is what you will need the batteries for. The remote is compact as well. The buttons on the remote control do not stick and offer a good amount of spring to them. I am sure with more use, an issue would be the paint wearing off on them, but after using this many times and for a considerable amount of time, it is not something that I have encountered. There is also a screw with a base that you can twist in to the bottom of this projector to offer a tilt feature which can come in handy as well depending on how you are using this. When it comes to the recommended distance of this when in use, I found that not only was the recommended distance offering a wonderful picture that was vivid in color as well as bright, but you could also take it further without impacting the picture quality. There is a keypad at the top of the projector as well which offers the same options as on the remote control, so if you were to misplace the remote control, you would still be able to use the projector without any issues. Sound quality on this item is sufficient and when used on the highest volume, the speaker did not distort or crackle. Of course, if utilized in a larger setting, the sound on the projector would not offer a sufficient volume, but there are things that can be done to remedy that as well such as external speakers. As for the picture quality, it is up there with the quality of being at a theater. Colors are nice and bright and the picture comes in clear. There is no vibration when the projector is powered on, so there is no shaking when it comes to looking at the picture like on some models. This truly was what I was looking for, something to fit my judgement and offer a movie theater effect!
This projector offers a variety of options to use with use which include gaming, movies, USB capabilities, photos, the ability to use an SD Card and much more, leaving the possibilities endless for it's consumer. In a generation where there are so many different varieties of media, this sure does fit in with it's times and at this price point, I would highly recommend it. It is sure to enhance your viewing experience!
This product sample was provided to me at no cost for the purpose of inspection and an unbiased review. Some images were provided from the product listing on Amazon.com