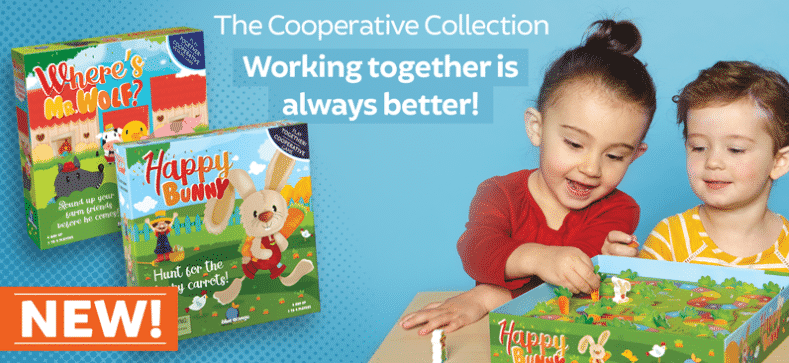 In today's society, many parents have went the electronics route when it comes to learning for their children. While it is a good idea in moderation, it isn't necessarily hands on. For many children, they tend to learn better hands on, so you want to try to look for options to compliment other methods of learning. There are many options available for parents and educators to choose from. One of my favorite choices are the games that Blue Orange Games has to offer. Blue Orange Games offers a variety of educational games for all age ranges at an affordable price.
I was offered the opportunity to take a look at two of the newly released games. While there are a few others that have been released as well, I was sent the following: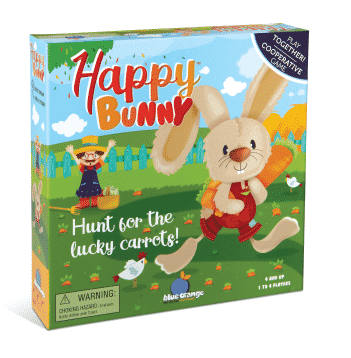 In this cooperative game, everyone helps the bunny pick the best carrots to bring home to his family, plucking them from the box just like you would from the ground. The trick with carrots? You need to test them first to find the most delicious ones! Make sure to pick carefully- all the bitten carrots are for the bunny, while the untouched ones are for the farmer who is also working in the fields. Line up the bunny's carrots at the end of the day and compare them with the farmer's harvest to see who picked the tastiest bunch! This adorable game is perfect to teach teamwork.
Skills:
Math
Cooperation
Social Play
Play Time : 15 minutes 
Age Range : 3 and Up 
Contents:
1 Playing Field
40 Carrots (12 small, 10 medium, 18 large)
1 Wooden Farmer Token
1 Wooden Bunny Token
1 Bunny House
1 Colored Die
Illustrated Rules
Initially when I brought this out for the kids to play, they were pretty excited. I had wondered if the excitement would stay as with toddlers, it can be difficult to keep their attention for long.  Offering bright colors and an easy concept for them to grasp, I had no trouble with keeping them playing. Depending on the understanding with the kids, it sometimes would go shorter than what a typical game would be because they no longer needed help to learn the game. I will agree it does help them learn early basic math skills which is a great jump start for school.
In this cooperative memory game, everyone works together to help all the farm animals get back to their barns before Mr. Wolf arrives… but where is he? Keep an eye out for him as you flip over the animal tokens. Every time you find Mr. Wolf, he creeps one space closer, and every time you find a farm animal, help each other remember the barn they below to. Bring all the animals to safety before Mr. Wolf comes around!
The cute animal tokens, 3D barns, and shared goal mean little minds work on memory and teamwork at the same time.
Skills:
Memory
Cooperation
Social Play
Play Time: 10 minutes 
Age Range: 4 and up 
Contents:
1 Playing Field
4 3-D Barns
28 Animal Tokens
4 Barn Tiles
1 Wooden Mr. Wolf Token
Illustrated Rules
This game seemed to be a favorite with the kids. When asked what they would like to play, without offering them option, they elected this. Play time is spot on, so it isn't too long of a game to where they end up losing interest. The bright colors and concept is easy enough for them to grasp and play with confidence.
Blue Orange Games offers a variety of games for any youngster that are new and innovative. It offers a fun spin on learning and they offer a breath of fresh air when one thinks of board games. For more information about this company and other games they have to offer, please feel free to visit their website, which can be found here.
Feel free to follow them on their social media channels for new product information :
Products provided from Blue Orange Games for the purpose of testing. Opinions are of my own.