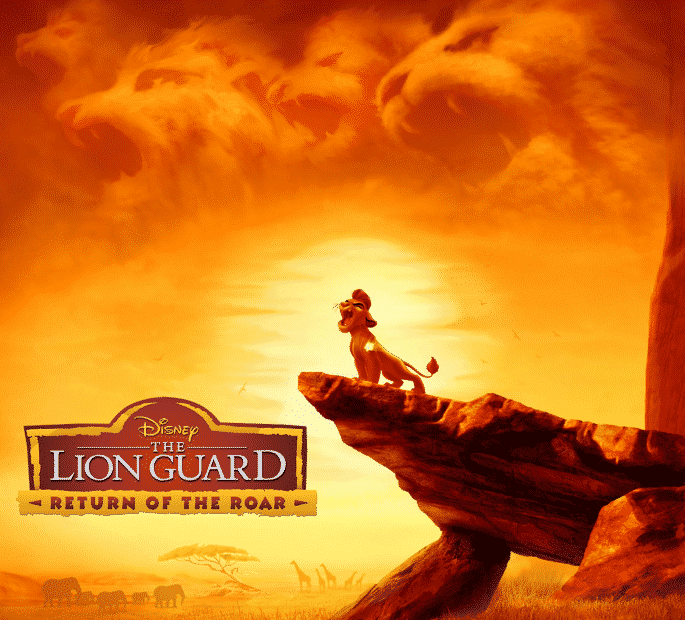 Hey everyone! "The Lion Guard: Return of the Roar" was released to purchase on February 23rd. This is definitely a cute one to watch, that is for sure.Set in the African savanna, "The Lion Guard: Return of the Roar" introduces Kion, the second-born cub of Simba and Nala, who is destined to become leader of the Lion Guard, a team of animals comprised of the Pride Lands' fiercest, bravest, fastest, strongest and keenest of sight. As Kion looks to assemble the members of the new Lion Guard, he does not call upon a group of lions to serve with him as tradition dictates, but instead chooses some of his friends whom he believes best exemplify these heroic qualities – Bunga, a fearless honey badger; Fuli, a confident cheetah; Beshte, a friendly and good-spirited hippo; and Ono, an intellectual egret.
Throughout the movie and subsequent series, the diverse team of young animals will learn how to utilize each of their unique abilities to solve problems and accomplish tasks to protect the Pride Lands and maintain balance within the Circle of Life.
Both the movie and series were developed by Ford Riley ("Special Agent Oso"), who also serves as executive producer. Howy Parkins ("Jake and the Never Land Pirates") is director. Christopher Willis ("Mickey Mouse") is the composer and Beau Black ("Miles from Tomorrowland") is singer/songwriter. "The Lion Guard: Return of the Roar" is a production of Disney Television Animation.
FULI FLEES THE BABOONS
Check out the catchy theme song!
Check out some activity sheets to entertain the kids:
http://movies.disney.com/the-lion-guard-your-lion-guard-team