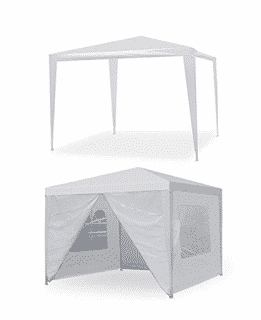 Special occasions are ones we often look forward to and ones that make memories that will last forever. Some are held indoors, while others are held outdoors. Sometimes having an occasion outdoors can create issues with nature doesn't want to cooperate. Whether it be too sunny or rain showers, there is no real way to know if you will endure such elements until the day comes. There are different things you can use if those elements do pose a problem on that special day some being a gazebo or canopy.
Over the summer, I was offered one to try and test out. Looking at the reviews on the site, they were pretty mixed, so I made sure to take note of the issues other reviewers experienced and wanted to take a look at those issues. The item arrived nicely packaged and upon opening it, everything was packaged accordingly to insure a safe arrival. Instructions were easy to understand and to be completely honest, I didn't need them. Mostly because I am use to putting things like these up. I have let someone use this item where they had to use the instructions and they still managed to get this up within a half hour.
I would like to note that this is a home use item. This isn't an industrial use one that you would typically rent, so please don't expect it. Upon shopping around for these, the pricing is a lot cheaper than most in comparison to items that are similar quality, so I would say, pricewise, this is good quality for the price. Now, the pieces of this are good quality, but they aren't exactly heavy duty either. If you use it for what it's intended purpose, I don't think you would have a problem. This can be used as a gazebo with the walls which seems to be more weather friendly, or this can be used as a canopy as well and be used for tailgating, and much more. So there is some variety to usage for this.
Here are the details from the listing:
Durable Water Proof Polyethylene Cover, Rust & Corrosion resistant powder coated steel framework
Great for Commercial use / Parties / backyard events, etc, Removable Walls attached with Velcro Fasteners. Easy Removal and Assembly, Includes Ropes and Stakes for added Stability
Color: White, Installation Manual Included, Please Note: We advise customers to never leave canopy up overnight or under bad weather conditions. We will not be responsible for such weather damages. It is up to customers decision to determine the correct weather condition.
Blue Color: These folding marquees are the ideal solution to protect your next outdoor bbq event or party from that 'chance of rain', or as a large, lovely sunshade retreat for guests. Have one on standby for your next home or office event.
As stated, when I put this up, it was very easy to do and took minimal time. Maybe 20 minutes at the most. I did have my daughter helping me as well. Two people are a little bit better than one, just so that you have some help. The Polyethylene cover was durable and I haven't encountered any issues with that still to this date. The poles are painted and not coated like many others on the market, but I haven't had issues where the paint peels either. We did use this and encountered some rain and this did not leak and kept the rain out from our event with no issues. I will advise to use the stakes in the case you would expect high winds. This does have the potential to fly off into the sunset is that isn't done. What I paticularly love about this item is that there are see through windows so to speak. So, you can still see outside. This is paticularly nice when you are trying to pay attention to your guests. This was easy to take down as well and comes in a handy storage and carry case. For me, that was huge. Not only does it keep everything together, but makes it easier when you want to loan it out or use it at a different location.
To me, this item is durable and suits my needs for everything I need it for. If you are looking for something affordable like this, I would suggest for you to try one of these. They are VERY reasonable priced because they are technically out of season. For more information in regards to this item for ordering or further reviews, please feel free to visit their listing
here.