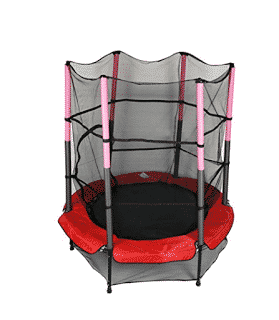 Getting in shape is always at the top of just about anyone's list. Whether it is to lose weight, tone up, or for other reasons, it's pretty much something we all do at one point in our lives and adapt a routine with it. I know after hitting my fourth anniversary of my thirtieth birthday, I noticed some things that mortified me. So I set out for things that would be fun to use and promote some kind of exercise. One good thing is a trampoline, but let's face it, I live in the mid-west and I can't have one outside all year. Well, I could, but I would more than likely end up in an emergency room. So, I set out for something I could have indoors and not take up a ton of space.
I knew I needed a smaller sized one, but I wanted something that would offer quality materials. I mean, I do have five kids, and to be completely honest, if there is a way to break something, my little monsters will find it. I received the Zeny® 12′ Round Trampoline to try out. When this item arrived, there was very minimal assembly with it. All I had to do was add the padded cover and twist on the legs and it was ready. Now the legs on this item do have a rubber bottom to help this from slipping when using. This was something I made sure of before unleashing my monsters on it.
Here what the listing lists about this item:
Safe elastic band technology replaces conventional metal springs
Woven polypropylene jump mat is the same material used on full-size trampolines
Padded skirt covers the elastic bands and outer edge of frame
Excellent for cardio fitness while being a low impact exercise designed to be easy on the joints
Simple, rugged design with proven band technology for years of safe use
It was time to see how this was going to last between the kids and myself using this. Just to clarify this, we have been using this for about a month. No issues were encountered. While using this for children between the ages of 5-34, the product worked just as effective. It offered a good amount of spring which was perfect to work out core muscles. This is also good for kids to wear off some extra energy when it is too cold to go outside! After the duration of use, I do not see any wear or tear so to speak with this. Springs have stayed in place with no issues and the legs haven't became loose. The rubber bottoms on each leg seem to work great to keep this in place without slipping as well.
This is a wonderful quality item in my opinion that offers quality materials and stands up to it's promises of durability. For more information about this product or to read further reviews, please feel free to visit the listing on Amazon.com located here.
This product was provided for the purpose of inspection and an unbiased review.