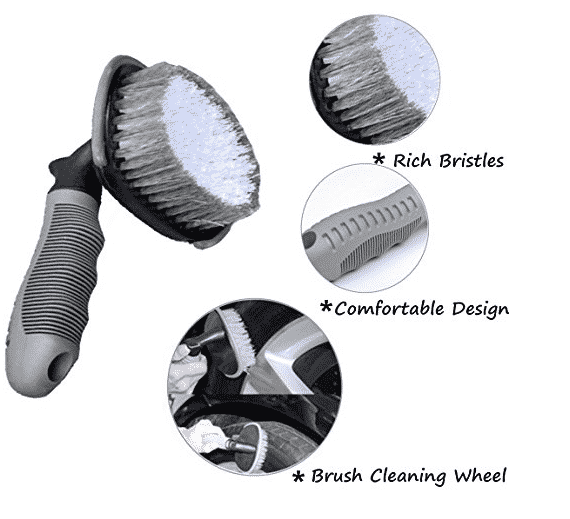 Summer is here which is the best time to clean the winter build up on our vehicles.  To ensure that we get the job down properly it is important to use the right tools. The MATCC brand has high quality products that will help you complete the job, but make the process enjoyable.  MATCC offers durable brushes and polishing foam pads that will make all your jobs go by quickly.
The first area that takes the most abuse on our vehicles is the wheels. The rims and tires are the dirtiest job as well as the most difficult. With the use of the MATCC 2 pack car wheel cleaning set of brushes you will not only get your tires and rims sparkling clean, but get the job done in half the time.
The high quality bristles are durable, strong and cover the head in a tight pattern.  Due to the PVC soft rubber handles are easy to hold on to and comfortable to you. While ergonomic design allows the user to reach all those tight spaces or blind areas.  Therefore, will never have to worry about reaching the crevices and corners of the tire rims or the tires themselves.  When you are done using the brushes you can hang the brushes to dry and to have them handy to use the next time.
These  cleaning brushes can be used for more than the tires and rims. Another great way to use the brushes is to wash you floor mats, the floor of the vehicle or even the grout. Because of the high-end steel wire flocking is used to make the brush bristles it makes the brushes suitable for just about any tough job you may have. 
As a result after cleaning your vehicle the best way to get a good shine is to buff or polish the vehicles surface. MATCC has put together a complete professional set that even the novice user can use.  These foam pads can be attached to any drill, electronic polishing  or pneumatic machine.
These high quality foam pads can work for waxing, polishing and sealing glaze. Another reason to use these pads is to save time. In addition these special polishing and buffing pads not only work on auto detailing, but they can work on any thing that needs polishing. Hence,  you can polish stones, ceramic, glass and anything that you want to make shine. There are 5 different pads each with their own purpose.
Therefore, the design of these foam pads makes them safe to use on most surfaces. These soft to fine pads are washable which says money. Clean the pads in cool water. Another great feature is the pads attach with an adhesive backing that sticks to the Velcro that is on the back of the disc. In addition the pads are quick to put on and take off. There are 4 sizes to choose from.
Size:6inchs
Specifications:
Material: Sponge; woolen
Form: roundness
Size: 3″/5″/6″/7″
3″ Pads- Diameter 80mm Thickness 30mm
5″ Pads- Diameter 125mm Thickness 30mm
6″ Pads- Diameter 150mm Thickness 30mm
7″ Pads- Diameter 180mm Thickness 30mm
Handle – Diameter 6mm Length:26mm
Hardness: Orange>Black>Green>Red>Blue
Color: Orange, Black, Blue, Green, Red
Package included:
5 x Polishing Pads
1 x woolen buffer
1 x adhesive backer pad
Disclosure: I received product(s) for free, in exchange for my honest review. I only recommend products I've used personally, and believe will be good fit for consumers.
We have teamed up with MATCC to host a giveaway for these two great products. Enter below.
Customers can find these products here:
https://www.amazon.com/MATCC-2Pack-Cleaning-Cleaner-Motorcycle/dp/B01MZ3FMWK/ref=pd_ybh_a_11?_encoding=UTF8&psc=1&refRID=BHCNX06REE515T0G8EMG
https://www.amazon.com/dp/B01MTNCSWC/ref=nav_timeline_asin?_encoding=UTF8&psc=1  
Enter to win your own prize pack: Starts 6/20
a Rafflecopter giveaway