Raising children goes faster than the blink of an eye. Somewhere between the sleep deprivation, the chaos, and the fun, we tend to forget those special memories as years pass by. Many of us receive or purchase a baby book, however, some baby books are not as good as others. For me as a mother, I know I looked for certain things for my baby book to have and to be honest, it was tough to find one that fit my needs as a mother who wanted to document everything. I stumbled upon a Baby Memory Book By Kiddybyte and I was more than happy with it.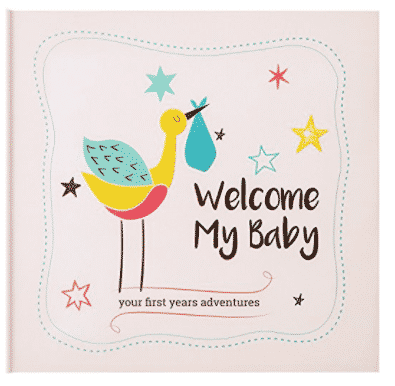 Kiddybyte offers a wide array of baby products where affordability and quality are their top priority. I purchased their baby book based on the reviews on the Amazon page and waited anxiously for it to arrive. Presentation of this product was exceptional. It comes in a nice storage box wrapped. The book has a nice hard cover to offer superior protection to the pages. Pages are bound in a plastic binding and thick.  I really loved this feature for the durability aspect. There is a table of contents which not only makes it easy to keep everything documented efficiently, but it makes it easy to look up things and take a moment to reflect. This baby memory book is full of extras that many baby books fail to cover. There are even stickers for each month for those special pictures that we mothers like to take. In the back of the book, there is a keepsake envelope which ties shut for storage of drawings, hospital bracelets, teeth, hair, and much more.
Here is what the listing outlines for the baby book:
KEEP PRECIOUS MEMORIES FOREVER! Keep track of your little one's 'firsts' in a premium baby journal! Make your personalized record of the baby's pictures, milestones, keepsakes, likes & dislikes in this cute baby scrapbook album to keep the memories alive forever!

HIGH QUALITY & BEAUTIFUL DESIGN! Enjoy the fine, velvety paper and the non-predefined photo spaces offering you the flexibility for various photo sizes & format! The content page, the monthly baby stickers (first 12 months), the baby keepsake envelope and the cute pictures make it the best boy or girl memory book on the market!

PERFECT FOR ALL FAMILY TYPES! All parents are unique, and their love for their kids are unconditional! At KiddyByte we believe in that and we prove it, by designing our baby pictures album free of stereotyped layouts! This is why our first years baby book is perfect for traditional, single, adoptive or LGBT families!

A SPECIAL GIFTING IDEA! Whether you are looking for an original baby shower gift, or a special present for the mom-to-be or the parents of the newborn, your search ends here! Offer them the cutest baby boy or girl baby journal rather than standard baby gifts and they will thank you for it!

100% SATISFACTION OR YOUR MONEY BACK! We take great pride in the quality and design of our baby pictures album and we are confident you will love it! This is why we are backing it with 100% KiddyByte Refund Policy, to help you buy with confidence! To us, YOUR satisfaction is top priority!
This product would make a wonderful holiday gift to an expectant mother or a new mother. This product is sold on Amazon.com and can be found here. Feel free to check it out as well as their customer reviews.
Be sure to follow them on their social media:
#hgg #baby #amazon #kiddybyte