When it comes to board games these days, it can be difficult to get your children to play. Sometimes it has to do with the same old titles while other times, they find video games more exciting. As a parent of five children, I find it important to keep them playing board games as it not only sparks their imagination, but is beneficial for fun family time. Blue Orange Games offers a wide variety of games for any age that are not only fun, but educational as well. I had the opportunity to work with Blue Orange Games this year to offer you some great gift ideas as in terms of board games. I was sent Dr. Beaker, Go Go Gilato, and Dr. Microbe.
Stir up excitement in Dr. Beaker's Laboratory! Flip a challenge card and race your opponents to match the formula. Using logic and your stirring rod, move the six molecules into the right spots. Think ahead – the special rotating platform at the bottom of your beaker only allows the molecules to move one-by-one. Unique game pieces add to the fun in this brain teasing logic race!
Skills:
Visual Perception
Focus & Attention
Problem Solving
Fine Motor
Processing Speed
Contents:
4 Beakers
4 Stirring Rods
24 Colored Balls (8 Orange, 8 Purple, 8 Green)
50 Challenge Cards
Illustrated Rules
This game was fairly easy to understand and offered a challenge to even my teenagers. The recommended age for this is eight years old and I would say it is spot on. This is a logic game that offers them to think logically as well as helps as in terms of dexterity. Some of the puzzles to do even gave me a run for the win. This was fun for all of the kids as well as adults. I would recommend this one however, if you have small children in the house, I would recommend keeping an eye on the marbles that come in this game. So store it up in a high place.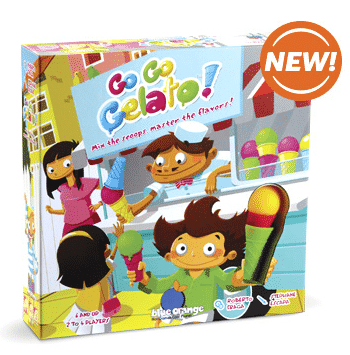 Using 4 cones, 3 scoops, 2 hands, and 1 challenge card fill your customers' orders as quickly as you can! Pass the scoops back and forth between the cones, being careful to not touch or drop them. Work quickly to figure out the best way to satisfy your customer before your opponents do. Fill the order exactly like it looks on the card, or you'll lose the race and disappoint your customer. A tasty and engaging dexterity race that's fun for everyone!
Components:
16 Cones
12 Gelato Scoops
54 Challenge Cards
Illustrated Rules
This was a favorite with all the kids, but my seven year old was the most fond of this game. Offering brightly colored balls and scoops, it immediately caught his attention. This game offers dexterity, logic, and lots of fun. It is very easy for him to understand. The recommended age for this game is for six and up and there can be three to four players. This game is also good for color recognition. The parts to this game are easy for little hands to hold and use.
Help Dr. Microbe complete her research with your tweezers, a petri dish, and the colorful microbes. Using logic, race your fellow scientists to figure out which microbes are missing from the incomplete challenge card and snatch them up fast! Find the answer using this key: the superbug must always be a different shape and color than the other three microbes in your dish. Be the fastest scientist in the lab to impress Dr. Microbe and win!
Skills:
Visual Perception
Focus & Attention
Problem Solving
Fine Motor
Processing Speed
Contents:
49 Microbes
5 Petri Dishes
4 Lab Tweezers
54 Challenge Cards
Illustrated Rules
This game was fun for all members of the family. Its a good game to help with dexterity, logic, and fun! The parts to this are small, so if you have a little one in the house, you will want to store this out of their reach. The recommended age is eight and up. The favorite variation of the game with my children is the sabotage part. It offered more of a challenge to the older ones.
https://www.youtube.com/watch?v=La8N84SX9Ck
Blue Orange Games offers a wide variety of games for any age range. They are fun, innovative, and a breath of fresh air in comparison to the older games we grew up with. So what are you waiting for?  Plan a family game night and have some fun. Winter is coming and have some fun on those cold snowy days. For more information about these games as well as the other games Blue Orange has to offer, feel free to go to their website which can be found here.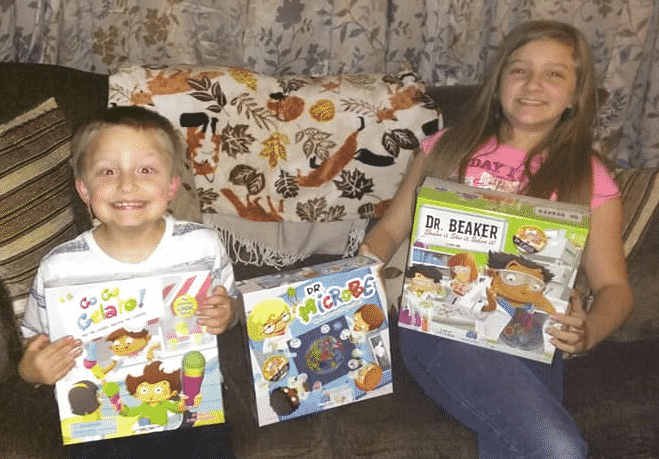 These products were provided to me from Blue Orange Games. Opinions are my own. #hgg #christmas #fun #BlueOrange #games