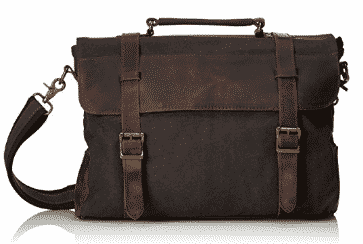 When it comes to being a student, there is no denying that you will need a durable bag to carry utensils as well as books. With so many options out on the market, it can be tough to choose. For me, I look at the various compartments and enclosures on these to show durability as well as fit my needs.
The Estarer Canvas Leather Laptop School Messenger Bag is a wonderful choice in my opinion for any high school or college student. Hightlights of the product include:
Estarer messsenger bags are high quality canvas/leather products which impress through excellent quality and timeless design

The vintage fashion design of genuine leather flap with buckle decoration is absolute an eye catcher. An ideal companion for your one successful day

Excellent and practical structure with many spacious pockets, the main compartment fit A4 file, a A4 folder is a little width and height. the main compartment fit A4 file, a A4 folder is a little width and height. The main compartment is fit for 14 Inch laptop

Magnetic snap closures makes things easy to store and to take out; Shoulder straps: adjustable and removable strap
While looking at this item, it is quite obvious that this is well made. After comparing product highlights with this item, they surely did not cut corners. Materials are made of good quality and the strap is comfortable whether you are wearing it across your body or just over your shoulder. There is not much padding on this product, so if you are keeping a laptop in this item, I would say to use some caution when putting this on the ground. Enclosures are well fastened to the product and keep this item closed nicely. There is a variety of color styles to choose from as well to cater to any person's liking.
This would make a great item for any student in my opinion and is quite stylish. This would make a wonderful gift to offer to the special student in your life as well as wonderful option for the school year.
Sample Provided
Photos are courtesy of Amazon.com