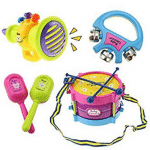 When it comes to finding a toy that toddlers like, it can be tough. Especially with so many on the market. As a mother of five children, I have come to learn what is fun at what age and what isn't through trial and error. Granted, as any new parent would tell you, toys pile fast, so its important to choose wisely otherwise you will have many on your hands.
The YUYUGO Drum Musical Instruments Toy Kids Toy Gift Baby Concert Drum Playing Set is a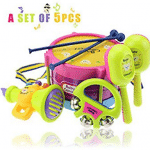 wonderful choice. This cute jungle themed set is sure to offer hours of fun and play. This set comes complete with the following shown in the above picture. Each toy is is lightweight and easy for your little one to grab and hold. This set offers many sensory development benefits as well as just being fun in general. Each sound is unique to the instrument. The colors are vibrant and sure to capture your child's attention and captivate them. I will say, these do make a considerable amount of noise, however it was very appealing when it came to baby playing with the items.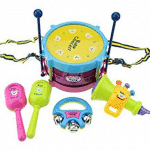 Of course adult supervision will need to be something encouraged with play with these items. This set is competitively priced at $10.99 on Amazon.com. This would not only be a great item to buy for your child, but a nice gift as well as item to go inside of an Easter basket.
Sample was received for the purpose of evaluation.
Photos were provided from the listing on Amazon.com