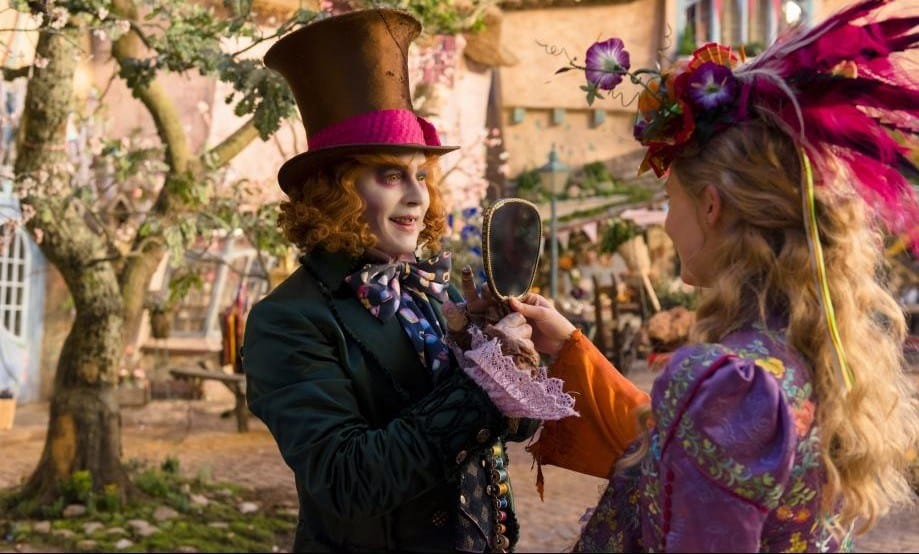 Have you all seen the previews for the latest Disney movie coming? I seen it a few nights ago and I am beyond excited. In Disney's "Alice Through the Looking Glass," Alice returns to the whimsical world of Underland and travels back in time to save the Mad Hatter. Directed by James Bobin, who brings his own unique vision to the spectacular world Tim Burton created on screen with "Alice in Wonderland," the film is written by Linda Woolverton based on characters created by Lewis Carroll. The producers are Joe Roth, Suzanne Todd and Jennifer Todd and Tim Burton. John G. Scotti serves as executive producer. "Alice Through the Looking Glass" reunites the cast from the 2010 worldwide blockbuster phenomenon, including Johnny Depp, Anne Hathaway, Mia Wasikowska, Matt Lucas and Helena Bonham Carter and introduces new characters played by Rhys Ifans and Sacha Baron Cohen. Also back are the talented voices of Alan Rickman, Stephen Fry, Michael Sheen, Timothy Spall, Barbara Windsor and Paul Whitehouse, and they are joined by Toby Jones.
Alice Through the Looking Glass Extended Spot
With all the buzz on this, it comes as no surprise that they have three-time Grammy winning singer/songwriter P!nk on board to sign it's hit single. Feel free to take a look at the Featurette.
P!nk has been a very popular artist. Since her debut in 2000, P!nk (Alecia Moore) has released seven records, sold over 60 million albums, over 130 million singles, over 2.4 million DVDs worldwide and has had 14 singles in the top 10 on the Billboard Hot 100 chart (four at #1). In addition, she is the recipient of three GRAMMY® Awards, three Billboard Music Awards, six MTV Video Music Awards, two MTV Europe Awards, two People's Choice Awards and was named Billboard's Woman of the Year in 2013. Her "The Truth About Love" World Tour played 142 shows in 13 countries. In the fall of 2014, she released a side project with singer/songwriter Dallas Green entitled "You+Me." Their album, "rose ave.," debuted at #1 on Billboard's Folk Album chart and #2 on Billboard's Digital Album chart. In 2015, P!nk became the newest UNICEF Ambassador. She is also a huge supporter of various charities, including: Make a Wish Foundation, Autism Speaks, Human Rights Campaign and No Kid Hungry. She is currently a spokesperson for COVERGIRL, and made her acting debut in Lionsgate's "Thanks for Sharing," alongside Gwyneth Paltrow and Mark Ruffalo.
Not only is this a movie that will have many of us in line waiting for the release in theaters, but it will have us rushing to get the single as well. "It's time for a little madness May 27" for sure!