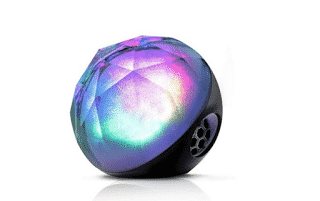 Bluetooth technology is huge right now for just about everyone out there. I will be the first to admit, I am a huge fan of these products, but they need to meet the demand for what I need them for specifically, and that is how I pretty much will grade them.
The
Airmate ® Wireless Speaker
 is one that is sold on Amazon.com that I was recently offered an opportunity to take a look at. This speaker is offered in two different colors, black and white. I was sent the white one. Looking at this, my first impressions are that it is appealing to the eye. The lightweight speaker has a unique design, offering it to be classified in a category of fun.
Here is what the listing states about the product:
Color Ball LED Bluetooth Speaker combines outstanding sounding speaker with a built-in light show. It's gorgeous because the rainbow colors sparkle like shimmering frost or glitter from inside the speaker
The LED can produce 16 million color combination, they are slightly muted to a sophisticated look and go well with the faceted surface. You could choose from a single solid color, to rainbow, to a choice of three different tempo lights to match the beat of the music (loud enough, or couldn't active)
It has 2* 3 watt speakers to deliver excellent sound, Re-chargeable Li-battery last for 10 hours, best for outdoor parties, You can stream music from your phone, tablet, or laptop to create a unique sound and lightshow anywhere
Comes with the remote controller, When you Control it, it will flash different beautiful and delicate colors lighting dark rooms or space, Enjoy the music as you wish
With TF card slot, you can put TF in up to 32GB, or line in 3.5mm wired connection. Wireless Bluetooth connection range up to 10m, compatible with Bluetooth enabledevices such as Android IOS smartphones, tablets, iPhone, iPad, laptop, computer pc etc
So reading that, I am sure you're like meh. No different, but here is the thing… it is. I have tested a lot of these throughout my reviewing time. In my experience, the lightweight speakers are kind of junk. This one has exceeded that expectation for me. Directions were easy to read and understand for people who aren't familiar with the bluetooth items. Pairing this item is very easy. Once you have this going, the sound is suprisingly really good. Looking at the size of this, it is small in comparison to a lot of them out on the market. Sound for this item is good. It does reacdh a good volume without the speaker distorting. Bass and treble are balanced just right.
Here is what sets it apart from the competition out on the market.. it comes with a remote control. Yes, that isn't anything to really jump up and down at, but the color too has a bit of sparkle to it. So, this makes it the perfect little party speaker. Put these two things into consideration as well as the price for it ($29.98 USD) and its pretty awesome. Lighting with this is vibrant and can be toggled through easily as well as dimmed with just the press of a button.
What I did not like about this, is it seems that if dropped hard enough, it could break. I did put this to the test and had it fall from a countertop and such, and it didn't, but there is the potential there, so I just wanted to let you all know about that. This would not only make a great gift, but also something wonderful for you to have as well.
This product was provided to me at no cost for the purpose of inspection and an unbiased review.
Hyperlink to the Amazon listing is an affiliate link where for every sale, I am compensated 4 percent.