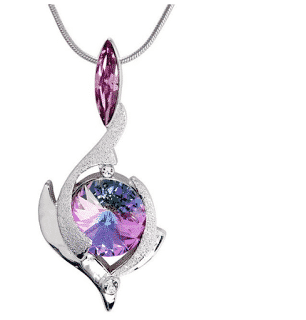 Anyone who knows me, knows that accessories are a must with me. Having a perfect necklace can really make or break a look in my opinion, but the catch with me is that I am seriously picky. I don't want to go out somewhere and see someone wearing the same necklace as me. That is seriously the most embarrassing thing wearing something someone else is. I go online to look for a good majority of the pieces I wear. One of my favorite designers for unique and beautiful pieces is William Wang. I was offered two brilliant necklaces to take a look at and I can honestly say, I am loving them as well as my friends.

The first necklace that I was sent is the Big Heart Pendant Necklace with Swarovski Crystal Set in Platinum and the other was the Birthstone Color Pendant Necklace with Two Swarovski Crystals Set in Platinum. Although from the same designer, each is unique and flawless looking. Each necklace is sent in a beautiful gift box with an elastic bow on them. Each pendant is lightweight and hand set by William Wang made in the USA. The Swarovski Crystals used in each necklace are nicely sized and capture the light just right to offer sparkle and shimmer at any angle. Each necklace includes 18.5 inch snake chain with 3 inch extender, making it adjustable to 21.5 inches.The snake chain has a lobster claw clasp which offers a secure closure. When wearing either of these, I did not experience any skin irritation or discoloration, I didn't experience any issues with pulling at the small hairs at the back of my neck at all and the chain was a lot more stronger than I initially anticipated. I have worn both necklaces a good amount of times and I have not encountered any issues with them. Many of my friends love these and have offered many compliments to me when I was wearing them.
These products were provided to me at no cost for the purpose of inspection and an unbiased review. Hyperlink to the Amazon listing is an affiliate link where for every sale, I am compensated 4 percent.