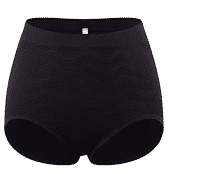 Shapewear is something that many women use to offer the perfect look to their outfits. Without the perfect undergarments for some ladies, it can really impact the look. With so many shapewear companies and different products, it can be tough to figure out which will be the right thing for you.
Introducing the Ekouaer Women's Shapewear Comfort Light Control Shaping Brief Tummy Tuck Panties. These panties are offered in four different color varieties which offer modest coverage as well as light control.
Here is what the listing states about the product:
Seamless Body: 90% Nylon+10% Spandex
Full seat coverage smooth and shape your derriere.Anatomical fit, designed to help lift buttocks naturally
Flattens tummy with reinforced panel for Light control and comfortable fit
High rise with no roll wide stretch waistband lies flat and won't ride up
Sewn-on elastic along leg openings for a custom fit.Machine wash, tumble dry.Size are standard US size.Please choose your general underwear size.
Looking at the material of these, it is good quality that offers a bit of a stretch in a controlled way. Material is soft as well as comfortable to wear. Looking at the stitching on these, it is well done with no loose threads. Upon washing these, there was minimal shrinking, but not enough to impact the fit. Color didn't fade from what I could tell. I didn't notice any issues with these not staying in place and did offer some control. I didn't encounter any issues with these and to be honest, when they arrived, I didn't think they would be as comforatable as they are. These do promise a lift to the bottom, but I lack that, so as in terms of evaluating that portion of the item, I was unable to really evaluate on that.
Ekouaer offers a wide array of shapewear, sleepwear, and much more, feel free to take a look at their storefront which can be found here.
This item was provided to me at no cost for the purpose of inspection and an unbiased review.
Hyperlink to the Amazon listing is an affiliate link where for every sale, I am compensated 4 percent.