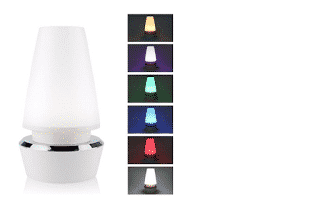 In a home with five children, there is no shortage of night lights here in my home. Problem is, some of them are too bright, and with five different kids, each one has a preference of course. My youngest likes the kind of night light where she can just use it and toggle through the colors with the touch of her hand, so I set out looking for something to meet her specifications.
I came across the USB LED Touch Sensor Night Light Multicolor Changing Desk Table Lamp(White) from efluky. This lightweight night light is not only what I was looking for, but something that passed my tests when I used this.
Here is what the listing has to state about the product:
Romantic colorful light in darkness
Ideal application to desk lamp, decoration light, night light, bedside lamp, gift
Tonch inductorium(plated)more than 2 seconds to control the light on and off
The magic light will change one color when you touch the inductorium one time
7 colors for your choice,colorful light slow flash mode
This item did come with the charging cord, but it did not come with the adapter. Adapters are pretty cheap to purchase at any retailer, but I would have liked to see it come with it just for convenienice purposes. You can still plug this into a USB and gain a charge, so it isn't a total wash. This item is arrived with easy to read instructions that gave me a feel for the product prior to using it. When using this, the lighting offered with this is just the right amount of brightness. It isn't anything that is going to blind you, but it is definitely going to keep the monsters away for your little one. The colors are rich and easy to toggle through with just a touch to the device. When this arrived, I did plug it in to make sure the battery was charged fully prior to the first use. I left this on through-out the night and it stayed cool to the touch. By the morning, which was a little over eight hours, the battery was dead. I did plug it in to charge and it was ready to be used again by the evening for my daughter.
What I really liked was this is large enough for her to grab and use as she walks down the hallway if she needs to get up in the middle of the night as well as offers her just the right amount of light. This item is BPA Free, Phthalate Free, Latex Free, Lead Free which is also something I look at when it comes to an item in my home. This light has been dropped a few dozen times and still works like a charm.
If you are looking for a night light, or just something for a night light for a room and not for a child, I would recommend this item.
This item was provided at no cost for the purpose of inspection and an unbiased review. Hyperlink to the Amazon listing is an affiliate link where for every sale, I am compensated 4 percent.